I have decided to breathe life back in to this old blog of mine! So THANK YOU for visiting! With the onset of Summer I
should
have time to get back to one of my favorite things to do: blogging! I am not sure if anyone is reading this so IF you are - please leave a little love in the comments so I can thank you personally!
I decided to step away from my blog for a little while. That little while turned into a LONG while. I always had the intention of coming back. Now is the time. I'm back! Nearly TWO years later! I am a little bit older, wiser, and living a lot better!
With a growing child, a new career, and a life ever-changing, I put this space on the back burner. Between family life, my son, and work: we were juggling homework, soccer, scouts, choir, ukulele, and basketball along with my new job, recovery from a BAD car accident, anxiety, chronic stress, etc. A break from blogging was a necessity for me. Life can be a challenge for us all.
We are on the verge of summer and I am ready!! We will soon have a reprieve from worries about homework, school drop off/pick up, packing lunches, etc., etc., etc. It's time for some good old fashioned summer fun.
Our FIRST Best Way Pool
I grew up in San Diego, CA and I have very fond childhood memories of summer days. To cool off, we would run through the sprinklers and have epic water balloon fights! We didn't have a pool, but it was fun to visit a friend's house that had a pool! This a perfect time to insert a shout out to my friends Janine (in elementary school) and Shana (in high school)! Hi Janine! Hi Shana! Thank you both for inviting me to your house for swimming! You might not remember it, but it stands out in my memories from our youth! Some days Janine would come to play in our backyard/mini petting zoo! We had geese, a duck, and a rabbit at one point. Those were the days! Shana had a real live PONY in her yard so she had me beat! I really want to create a fun place for my son and his friends to make these types of memories in his backyard. When I heard that Tryazon was looking for hosts for a Bestway® Splash on the Grass Party I applied right away! I was beyond THRILLED to be notified that our family was selected!
With the drought conditions in Southern California, we haven't really done much water play to cool off . In the picture above you can see that it is a barely filled backyard pool. We were mindful of
water conservation
. We still had fun even thought it wasn't filled to capacity.
It actually RAINED this past weekend and we have seen more rain here is San Diego than I can remember. I hope that the backyard dries a bit SOON so that we can get set up for a backyard party!
We received the pool that is in the picture as a birthday gift from my sister to my son. He is a summer baby so this was fitting. She is his favorite auntie and his God mother. We love her! Our kids had so much fun playing in that pool! This year they will have a bigger pool to splash around in!
This summer we are upgrading to an above ground pool that the kids
and
the grown ups can cool off in thanks to our friends at Tryazon and Bestway®! They will help us kick off the summer with a Splash on the Grass party! We were picked as one of 50 hosts.
I am counting the days until we get our very own Coleman Power Steel Swim Vista Series Pool!
I have a feeling we are going to LOVE it. I'll have to end this post for now as I have some party planning to take care of!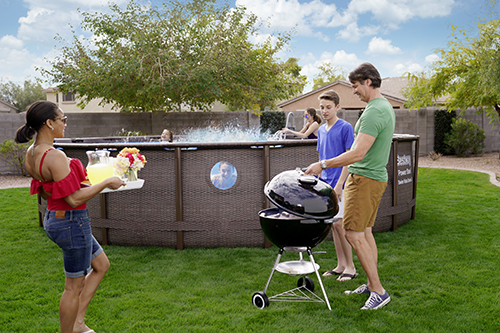 Our NEXT Best Way Pool!
Swim Vista Swimming Pool Set with Pump, Ladder & Cover
I'll be sharing details of our Splash in the Grass party SOON! So please stay tuned!
Disclosure
: As a selected party host, we will be receiving a Bestway® Splash on the Grass Party Pack provided at no charge.